Building Strong Boats Sailing Rough Waters
Tacoma Community Boat Builders works with at-risk youth crafting and sailing small wooden boats
Boat Building Skills
Youths work with mentors to learn woodworking and boat building skills. Through the practice of craftsmanship and patient skill building they develop a sense of accomplishment
Community
As the youths work with mentors building boats they create a community of trust where building relationships and teamwork are essential
Building Whole People
Participants learn how to shift out of crisis mode and into a more steady, intentional path, learning the value of goal setting, critical thinking, planning, problem-solving, and successful work
On the Water
In addition to learning the principles of boat handling and sailing, participating youths discover the rewarding experience of getting on the water in boats they have built together
Tacoma Community Boat Builders
Building Strong Boats. Sailing Rough Waters
Tacoma Community Boat Builders
Creating transformational opportunities for at-risk youth
through boat building and positive mentorship
Join Us for the TCBB
Annual Fundraiser 
September 8th, 2018 beginning at 5:30 p.m.
5

Or call: 253-720-8703 
Or email: event@tacomaboatbuilders.org. 
 We will get you taken care of lickety split!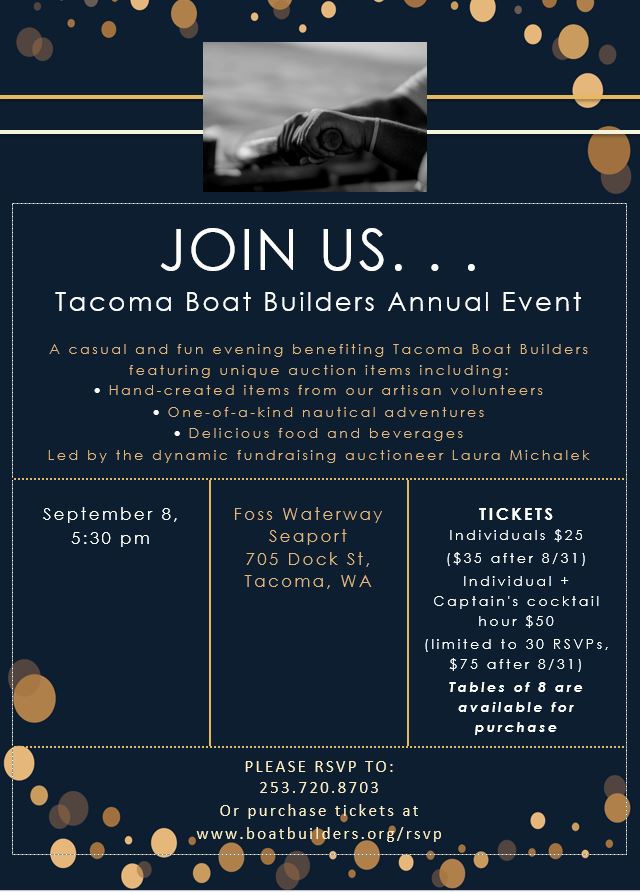 Subscribe to our Newsletter
Please Donate!
As a non-profit service organization, we are completely dependent on grants and contributions. Please make a donation to Tacoma Community Boat Builders to allow us to continue our work with at-risk youth.