In Covid-times TBB Mentors and Youth Can Still Come Together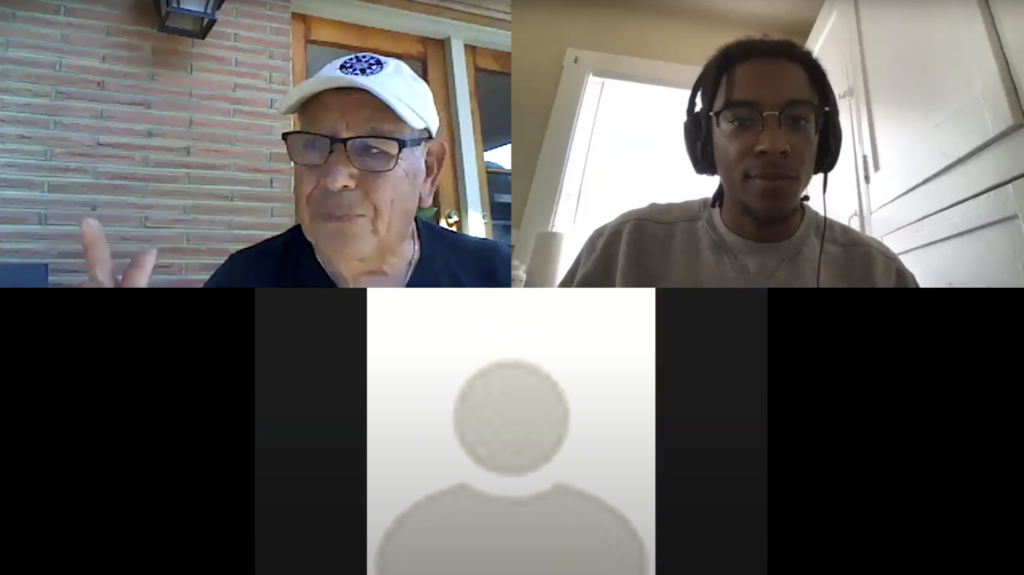 A youth from one of our weekly programs interviewed TBB Mentor Enrique on Thursday, August 20, 2020. This was their first meeting, but they plan to get together again soon. 
For confidentiality purposes, we will call our young friend Levi. 
Bridging Divides: Common Ground Revealed At Once
Levi, 13 years of age, and Enrique, 82, met for the first time over Zoom.  Neither age nor technology stood between these two. With a little help from his wife Marjorie, Enrique was able to get online. Levi prepared for this meeting with Isaiah and Jess, two of TBB's program leads.
Levi's first questions were focused on Enrique's background: After retiring from the Labor Department in Washington D.C., Enrique "Henry" Rómulo León moved to Tacoma, where he found a home in the welcoming Pacific Northwest.  Enrique finds happiness in making new friends, including young people like Levi.  After discovering Tacoma Boat Builders, he liked what the organization was about and felt a desire to share his time and carving skills with young people and a community of mentors like himself. "I like to share some of my time, because I have plenty of time since I retired."
When Levi learned that that Enrique had lived in Washington D.C., he asked if Enrique was familiar with the DC Comics and Superheroes. It turns out, he is! Enrique told Levi that in the 1960s and 1970s, he would go looking for the latest edition every week. "Those magazines were very hard to find and very expensive, but I had a great time. Superman was my favorite." Enrique mentioned to Levi how popular, and collectible they are even now.  
Mentoring Brings Joy to His LIfe
When asked what he liked about being a mentor, Enrique shared that being a mentor brings him happiness, "I'm sharing a little bit of what I know… and skills with young people. They are the future."  He believes every youth is intelligent and only needs a little bit of motivation and guidance.  Enrique feels proud of his new home town, and likes to be a part of the many good opportunities available for young people to get involved, especially for those seeking second chances.  He is proud to be a part of it, "Giving guidance and an opportunity to be exposed to all this activity at the Tacoma Boat Builders every day, you have a chance to discover something new.  This makes me very, very happy."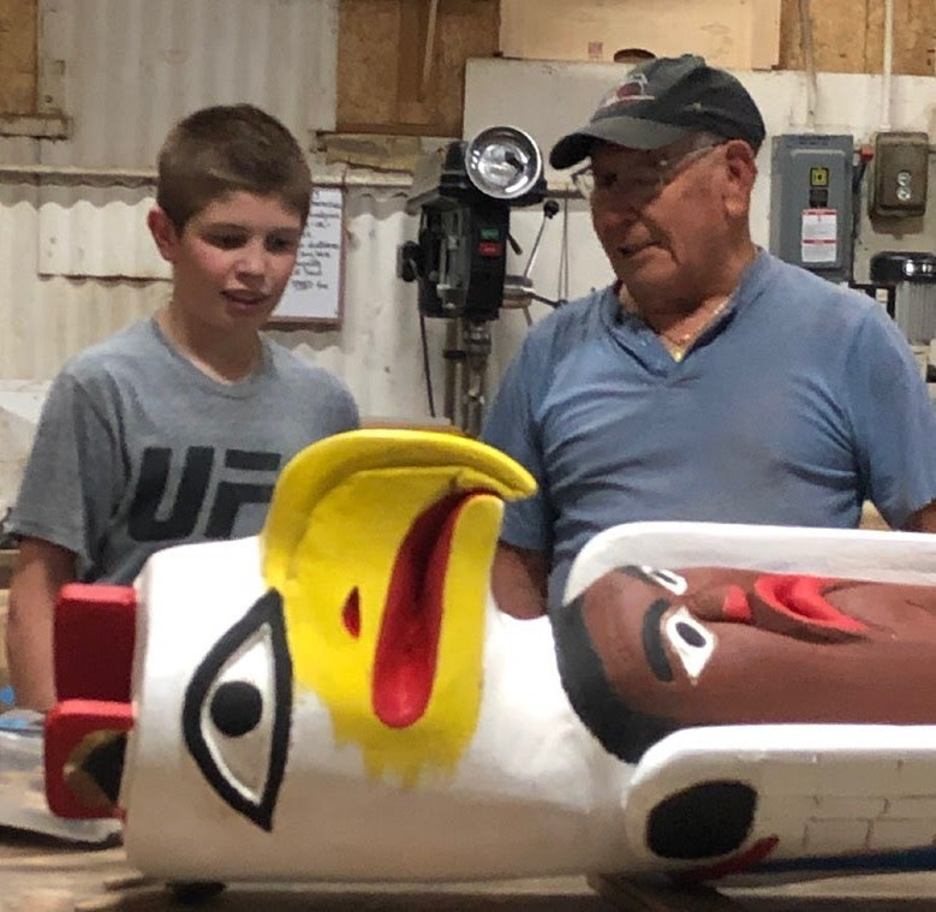 The Gift of Artistic Expression: Creativity and Learning Enrich Life
Enrique has been a carver for many years. In recent months he finished two Native American-style totem poles to fill his time rather than sit idle at home. During the interview, Enrique showed off some of his work.  Both Levi and Isaiah were in awe.  He continued, "I like woodcarving and working with wood … That's the reason why I'm working with the Tacoma Boat Builders, and when I discovered TBB, for me, it was just a beautiful opportunity."
Levi asked Enrique about his art, he responded by saying "Art is a part of my life."  In high school, Enrique discovered his passion for art.  He believes it is a a great gift in his life that gave him a spark that inspired him to pursue artistic expression throughout his life.  After high school, Enrique went to college to become a teacher, where he learned more about different mediums such as oil painting, designing, and carving to teach to future students.  Enrique taught for some years in Peru, and then worked within the Ministry of Education, where he developed curriculum for adults returning to education, similar to adults earning their GED.  Enrique encouraged Levi about staying in school say "it's the backbone of your life" and helps you get where you want to go.
No Pizza in Peru? Learning About A Distant Culture
Telling Levi about where he is from, Enrique explained that Peru is a country of three regions: Highlands, Coast, and Jungle. Enrique was born in the Highlands, saying it is similar to "Oklahoma or Idaho." When he was twelve, his family moved to the Coast, two blocks from the water, to seek better opportunities. After many years, and with a young family of his own, Enrique's family "decided to move to the United States… we had to think about our future because we're not young forever." Enrique and his family have lived in the U.S. for almost fifty years now but he still has family in Peru that he regularly visits. He went on to talk about being a bi-cultural family and what it takes to be home wherever you live.
Like many countries, Peru has cultural differences, including the foods, ways of living, and language. There is a big difference between Peru and the U.S., but the one thing that Enrique learned over the years is that "you have to learn the culture of the country you are in; if you want to succeed, you have to swim in this culture and get used to it." Levi was surprised to learn that before residing in the U.S., Enrique never had pizza, hot dogs, hamburgers, played tennis or skied. "I discovered beautiful things… If I had said 'no,' I would have been stuck in a box!"
Carving to Share His Peruvian Heritage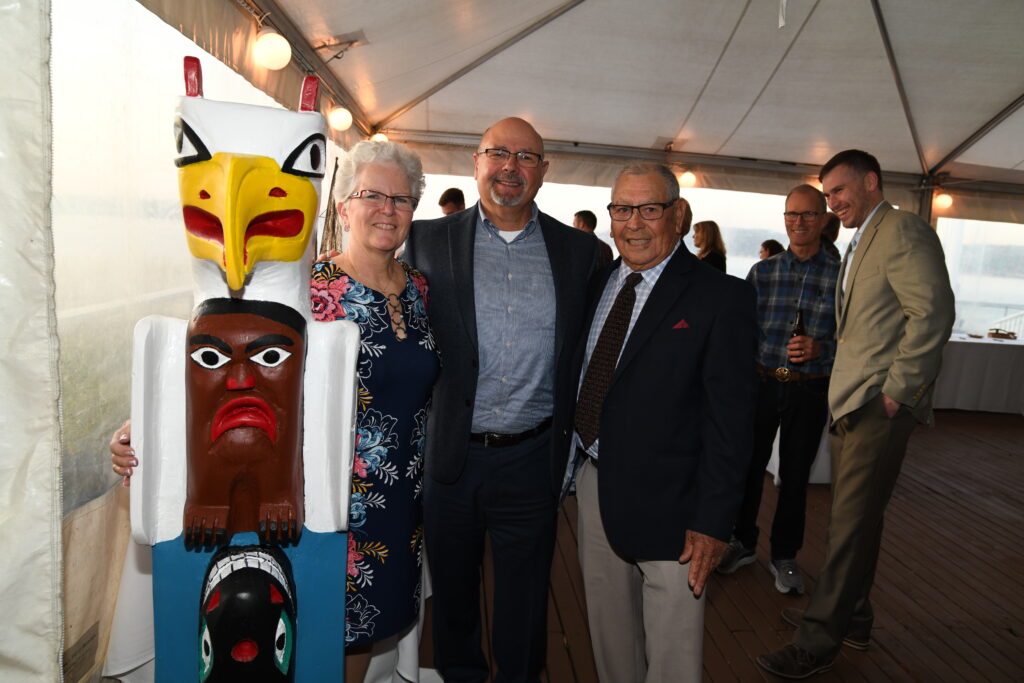 As someone who carves a lot and follows history, Enrique likes to share his culture and other cultures around him, with the Boat Builders and youth.  "The expression of the natives in the jungle and north in the Highlands of Peru are totally different, but I can carve those materials and share them with you."  Levi was quick to ask if they could carve together suggesting they make masks or a small totem pole.  Enrique told Levi "carving requires patience, dedication, and focus." He asked if Levi was ready for that. When he said yes, he said "I  have all of the tools, and it will be a pleasure to teach you." 
Connecting Through Native American-Style Cultural Expression
Enrique went on to explain, "A totem pole tells a story. Since we live in the Northwest, we have all of these figures like the Beaver, the Bear, the Eagle, the Thunderbird, and they all have meaning.  Sometimes you have to realize the meaning of those figures compares with your life."   As someone who is goal-oriented, adaptable, and a storyteller, Enrique identifies as a Raven. Lucky for Levi, there is "plenty of Red Cedar here in the Northwest," which is ideal for carving.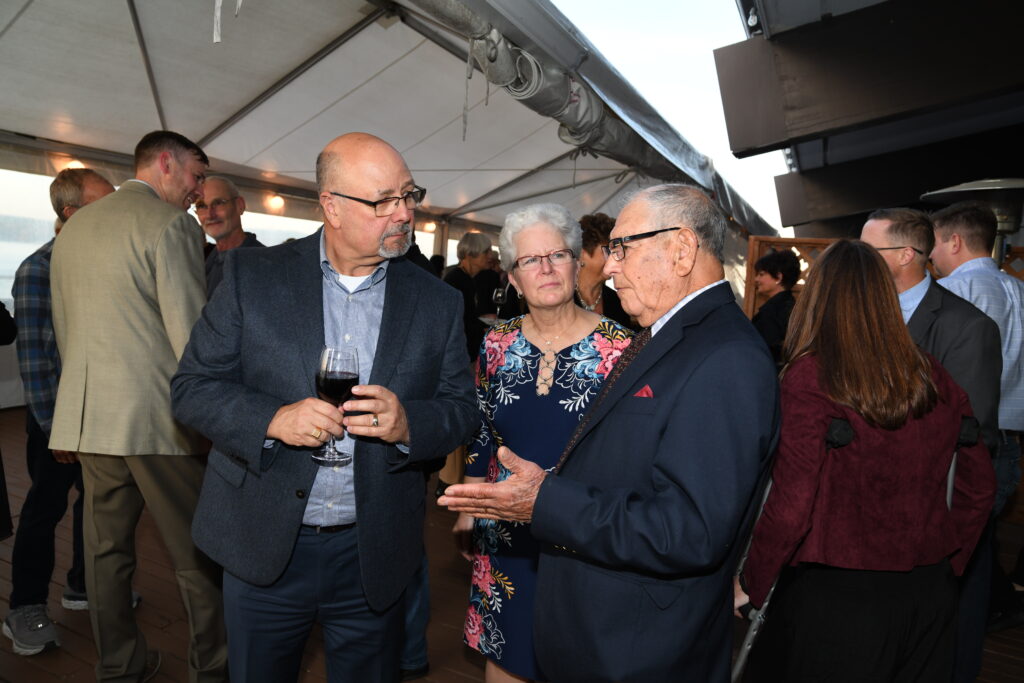 Connecting to the Watercraft: About an Umiak
Levi asked Enrique about "Skullich," the Southeast Alaskan style canoe cared for by TBB.  Currently, Tacoma Boat Builders is home for the skin on wood-frame Umiak with a striking image of a giant pacific red octopus painted on her.  "Skullich is the octopus, a symbol and legend of the Salish traditions in the Northwest Tribe communities.  The Salish Sea starts in Vancouver B.C. and goes all the way to Oregon."  The Skullich is "one of the most intelligent animals in the world… it can reduce to the size of a rubber band, and they can move so fast!"  Enrique resonates with the octopus because when Enrique sets his mind to his goals, he'll do what he needs to finish.  Sometimes people question why he's so fast and energetic; Enrique says, "I don't know, I was born like that, and I like to do things until they are finished.  I don't give up."

The Gift of Skullich: Of Meaningful Journeys and Self-Renewal
The Carver's Camp is a group of people, not only native people nor people of any specific tribe; it's an open group that participates in the Tribal Journey every year. The Umiak "Skullich" and some of the TBB mentors have joined in the journey for many years. "The journey for me is a trip for meditation," says Enrique, "it's a chance to meditate." It's a 10-day trip on the water, where people are paddling for up to 8 hours a day, "you just see the sky and the water." There may not be much there, but "those are the moments where your mind starts flying." During times like these, one remembers their past and the people who have been in their lives. "I wasn't a saint; I've made a couple of mistakes myself… It's like a self-confession. It's just yourself, and it's like you see yourself. And you start to discover how important those people were to you." In 10 days, day-by-day, no one is talking for several hours, so each person is deep in their thoughts while paddling. In the evenings, the crews of all the Journey – over 5,000 people – join together to eat around a campfire. The great thing is "to reevaluate yourself after coming back home, then you feel so fresh. You feel new, totally new with a lot of energy."
A Shared Connection to Music and History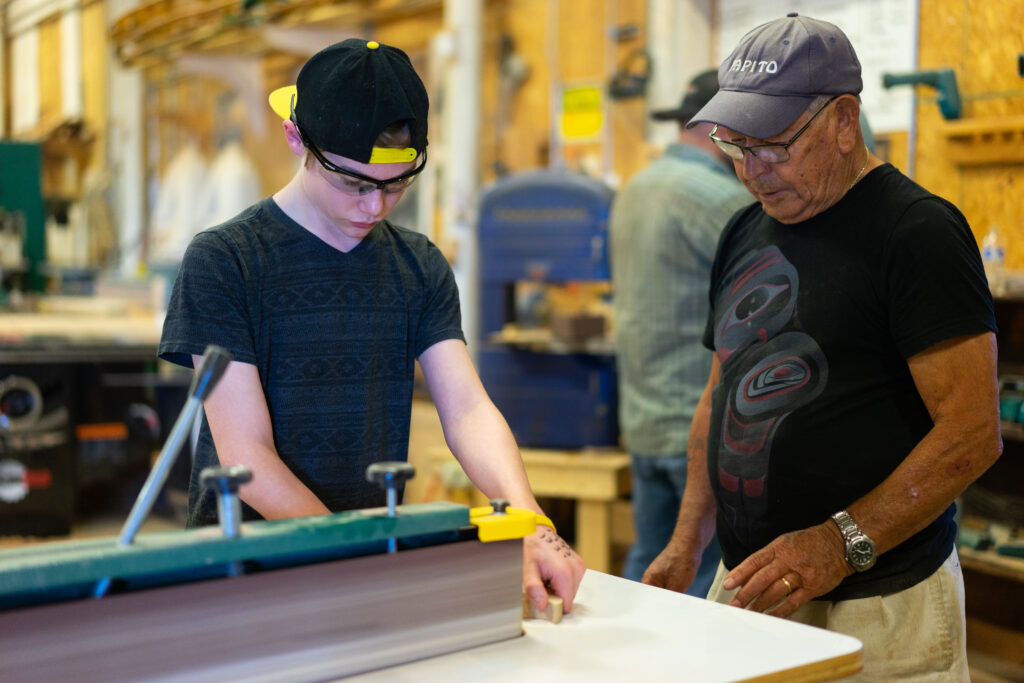 Enrique feels a deep connection with music.  It turns out, Enrique and Levi share similar musical interests. When asked about his favorites, Enrique mentioned he likes rock, though his favorite music is country because it "shares stories, like love stories."  Every country has its music; sometimes, he listens to Peruvian music as well. Enrique shares an interest in playing music as well, "I do enjoy music.  I just got a Ukulele, and my goal is to learn to play it."
The Inclusive Culture of TBB: What do you know about a Cajon?
Levi got to surprise Enrique by asking him about his familiarity with the Cajon drum. Enrique exclaimed, "How do you know about that?" Levi told him that he built one during the virtual program and had been practicing on it for a while.  Enrique told Levi the history of the Cajon drum in Peruvian culture.  He explained that when the ships came from Africa with slaves intended for the U.S., some vessels would make a stop in Peru. South of Lima, in Chincha Alta, some slaves worked in the cotton fields for the colony, and "they brought their culture of music along with them." This musical culture changed the Peruvian culture and lifestyle. "They made the instrument, the Cajon, with the hole in the middle."  There's a beautiful and unique Alcatraz dance to go with the melancholy sound.  "We still use the Cajon" today, with the palm of your hand and taps with your fingers to follow the notes.  Wrapping up the interview, Enrique gave a sample of a few beats and laughter.
"Levi, it was a pleasure talking to you.  Thank you for spending your time with this 82-year-old guy." Levi smiled and followed with "Thank you for your time too."